My family and I are lucky enough to live in a very beautiful place.  Our home, in the middle of the Plumas National Forest, is scenic and full of wonderful things to do all year long.
One of my daughter's favorite things to do at Christmas time is to cut a real tree.  Although she is in college, she made me promise to wait for her to return home so she could be a part of this family tradition. We all get bundled up and pull on our snow boots.  This year there was just a couple of inches of snow but the temp was about 37 degrees outside. Brrrrr.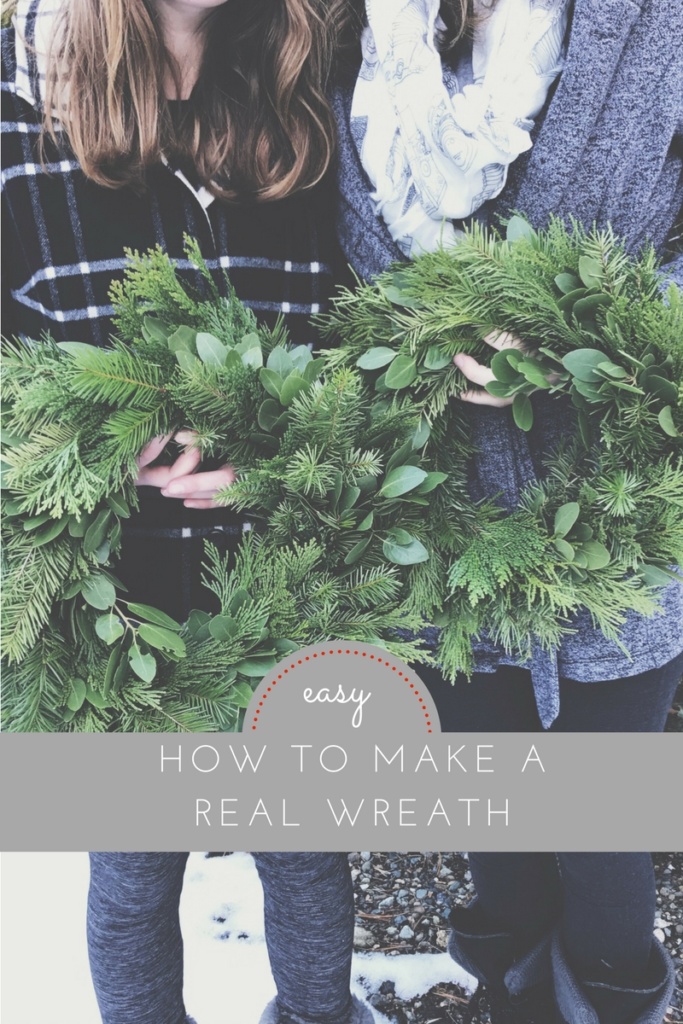 We fill the thermos with cocoa and pack snacks for the outing and the hunt is on. This year I decided to bring along some wreath-making supplies and kill two birds with one stone.  While the family was searching for the perfect tree, I set up a little workbench on the tailgate of the truck and got to work making a wreath.
Here's what you'll need to bring on your outing;
Wire coat hanger
Pruning clippers
Loppers or a small handsaw for larger branches
Spool of wire
Wire cutters
Start by cutting a few low hanging branches. I used a variety of pine, cedar, and manzanita for mine.
Tip: If you don't have access to a national forest you can try asking your local tree farm or lot for the branches they trim off.
Form the wire hanger into a wreath shape.  I used a dry cleaner's hanger that had the cardboard tube on the bottom.  I removed it and crimped the two ends together.  I like that this wreath is a smaller size.  It makes the project go much faster and is the perfect size for a gift.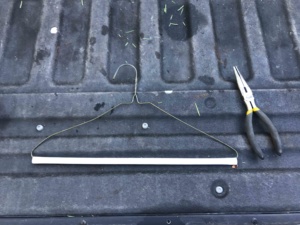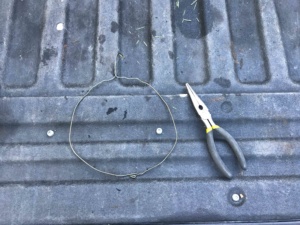 Next, I clip the branch tips into 8-inch lengths.
Take the wire and wrap it around the hanger at the top to anchor it.
Then bundle your greens together.  I layer pine, then cedar and finally a sprig of manzanita. Place this on your wireframe where you anchored the wire.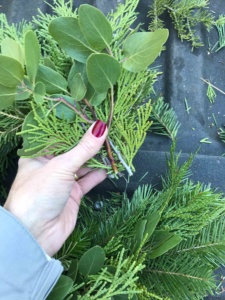 Wrap the bundle snugly three times.  Be careful not to pull too tight and break the wire.  (I've done that before.)
Make your next bundle and place it about two inches from your last one. Wrap it snugly three times.
Keep doing this process and work your way around the wire frame.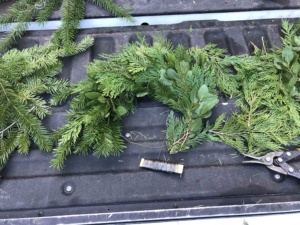 The last bundle can be a challenge.  Tuck it in close and wrap it so that you can't tell where the last one ends and the first one began.  Give it a few extra wraps, cut the wire, and tuck in the loose end.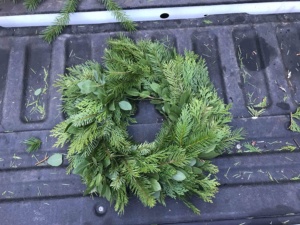 Now hold up your beautiful wreath and admire your work.  You can trim any greenery that is sticking out too long. If you have a sparse area, you can always tuck in and wire in a small bundle.
I add a bow to the top and this always helps hide the start/stop area.
I was able to make two wreaths before the fam came bounding back with the tree. It took about 15 minutes for each of them.
Now it's time for cocoa and snacks, and of course a quick photo session.
I just love how fresh the pine scent is.  My hands might get a little sappy but it's worth it.  The truck smells amazing all the way home. My heart is full!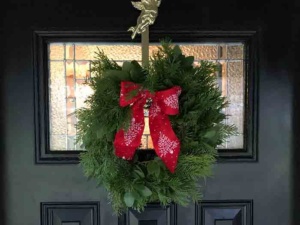 I just love how it looks on my front door.  I finally feel ready for the holidays!