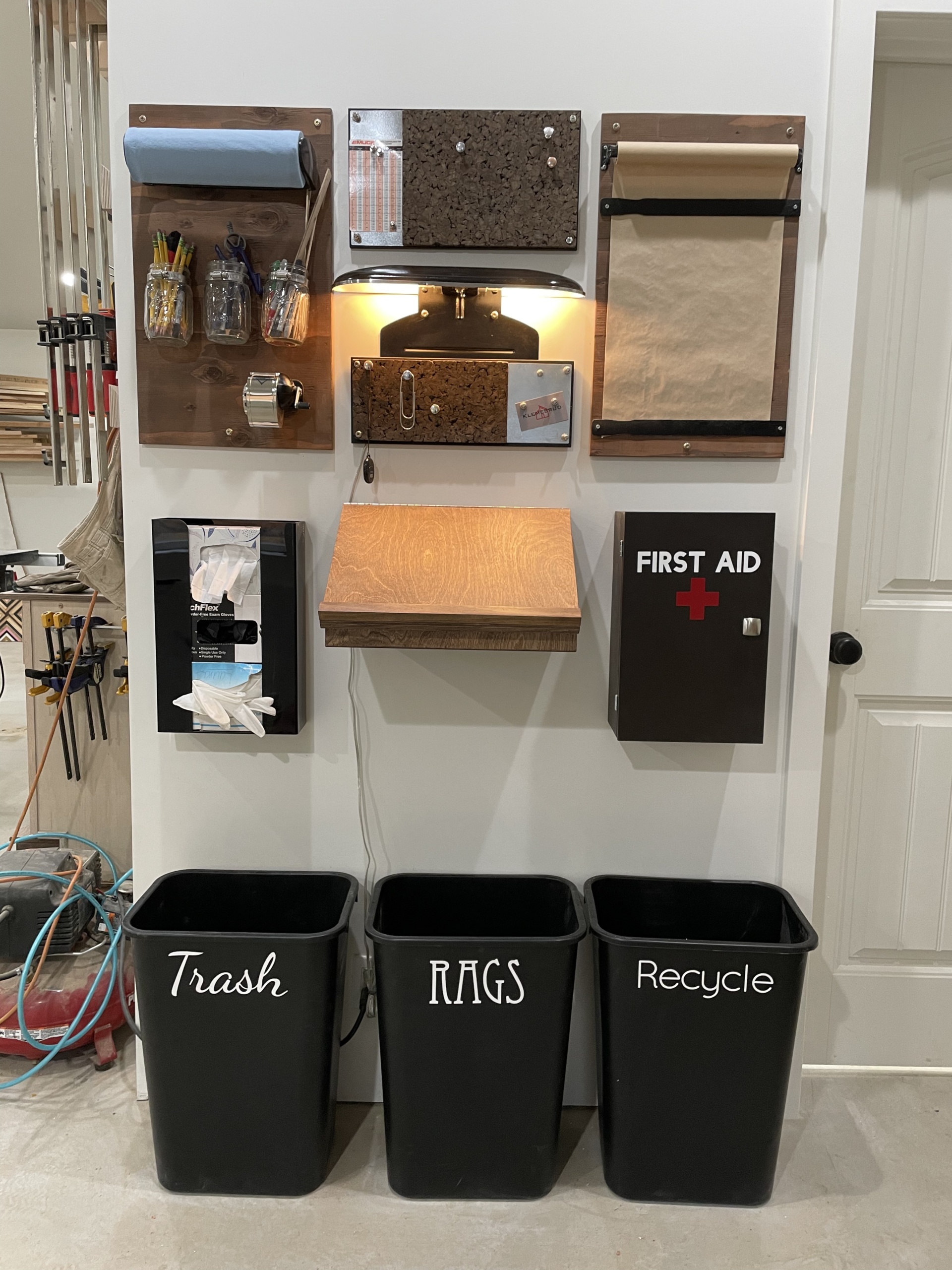 This was one of the things I was most excited about with my new shop build.  I know it sounds crazy, but I just couldn't wait to put it all together.  I actually sketched it out months before the shop was completed.  (It's the little things in life…lol)
In hindsight, I should have had our contractor add more studs to this wall to make hanging these modules easier.  So, if you are building new, do that!! Luckily, most of these aren't very heavy and I could use mollies and screws to mount them.
Here's a pic of the completed wall.
I'm thinking that it might need a piece of artwork or logo at the top.  We'll see if I can come up with something.
1. Paper towel, pencil cups and sharpener
This was a piece I made for my garage/shop a couple of years ago and brought it over to the new shop. It holds so many shop necessities. (Pencils, pens, sharpies, small ruler, compass, etc.)  I used hose clamps to hold the mason jars. I gifted myself some new no.2 pencils as a " shop warming" gift. I love office supplies almost as much as I love my new shop…almost!
Dimensions:
Materials
½ or ¾ inch scrap plywood
Paper towel holder
3 hose clamps
3 mason jars
Screws
Wood stain (I used  ?)
Poly varnish (I used ?)
I placed the plywood on the table and arranged the items, spacing them out as necessary.  Mount each item with screws then secure it to your wall. I used mollies, screws, and finish washers to secure to the wall. This one has to be secured pretty well so that you can crank on the sharpener.  I love an old-fashioned pencil sharpener. The electric ones are TERRIBLE!  Plus, it reminds me of my elementary school days when you could waste class time by dawdling at the sharpener and pass your bestie on the way and poke her! lol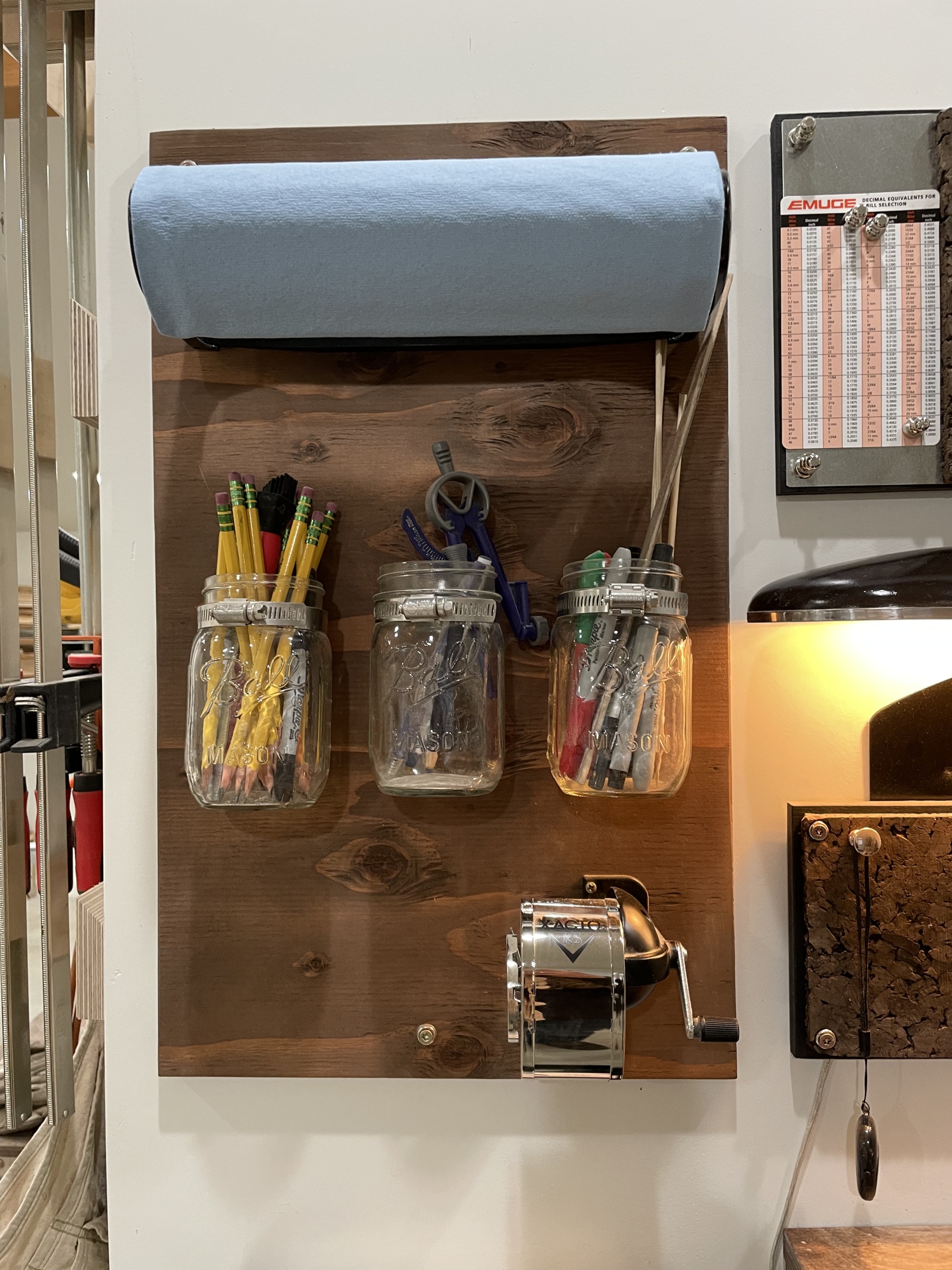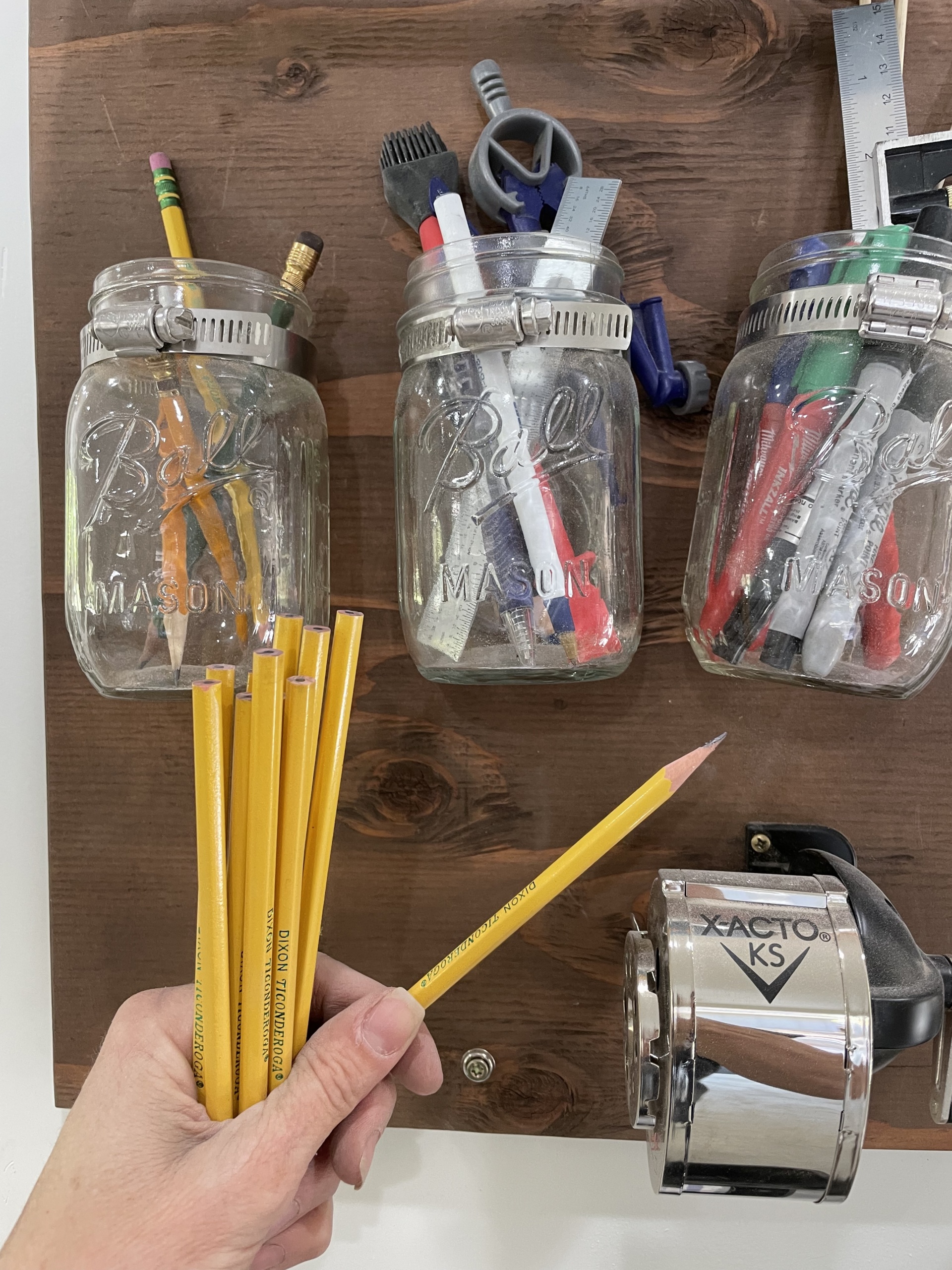 This space is great for hanging templates, business cards, etc.  I made them to fit the extra space I had above and below the light. I just used scrap wood I had leftover from previous projects.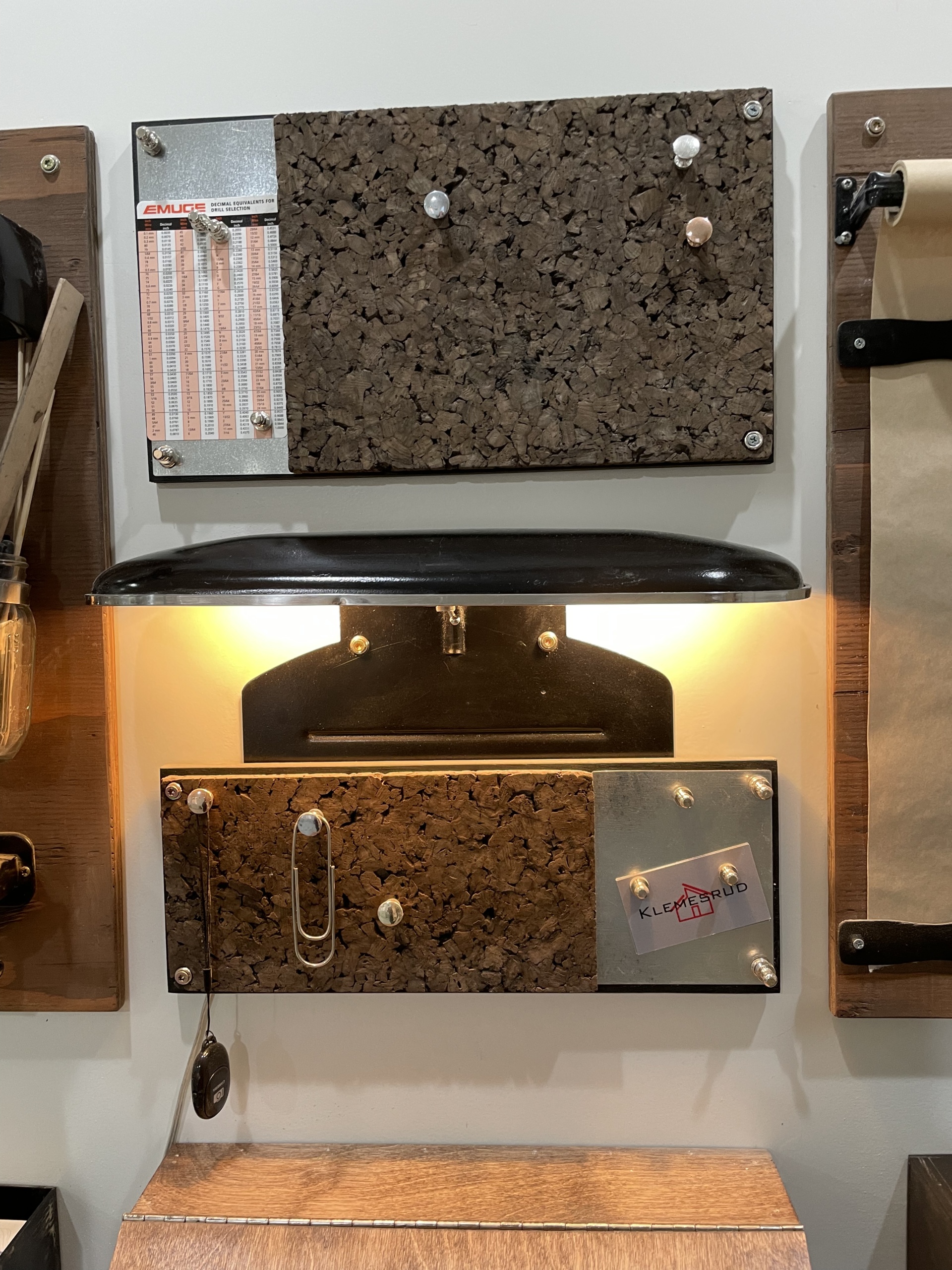 Dimensions:  6 in x16 in and 9 in x16 in
Materials:
½ or ¾ inch plywood
Scrap steel sheet metal
½ in cork
Paint
Screws
Wood glue
Push pins
I cut the plywood to the dimensions of my empty spaces. I sanded and painted them black. Next, I cut the sheet metal with a small band saw. You could also use tin snips for this. Sand the edges of the metal to smooth out any burrs.  I'm lucky that my husband has a metal shop so I used his de-burring wheel for this.
Glue the metal in place with some wood glue and clamp. We'll screw it down in the next step. You can glue and clamp the cork side as well. I overlapped the cork onto the metal by a half an inch.  Let this dry for a couple of hours.
Pre-drill the metal before mounting it to the wall. I used screws and finish washers for a clean look.
This is my favorite part of my communication center wall. This was the reason I designed it in the first place. This light belonged to my grandmother. It originally was part of her O'Keefe & Merritt electric stove/oven. When the appliance finally needed replacing my grandfather couldn't bear throwing out a perfectly operational light. He removed it from the stove and hung it above the wall phone. Yes, a phone, with a cord, that hung on the wall! I just realized that my grandmother had a communication center as well.  I hadn't put that together until now.  Her cubby space was just inside the entry door. It had a cup with pencils, scrap paper for messages, a bill box, phone book, address book, and a calendar on the wall. Such a great memory for me.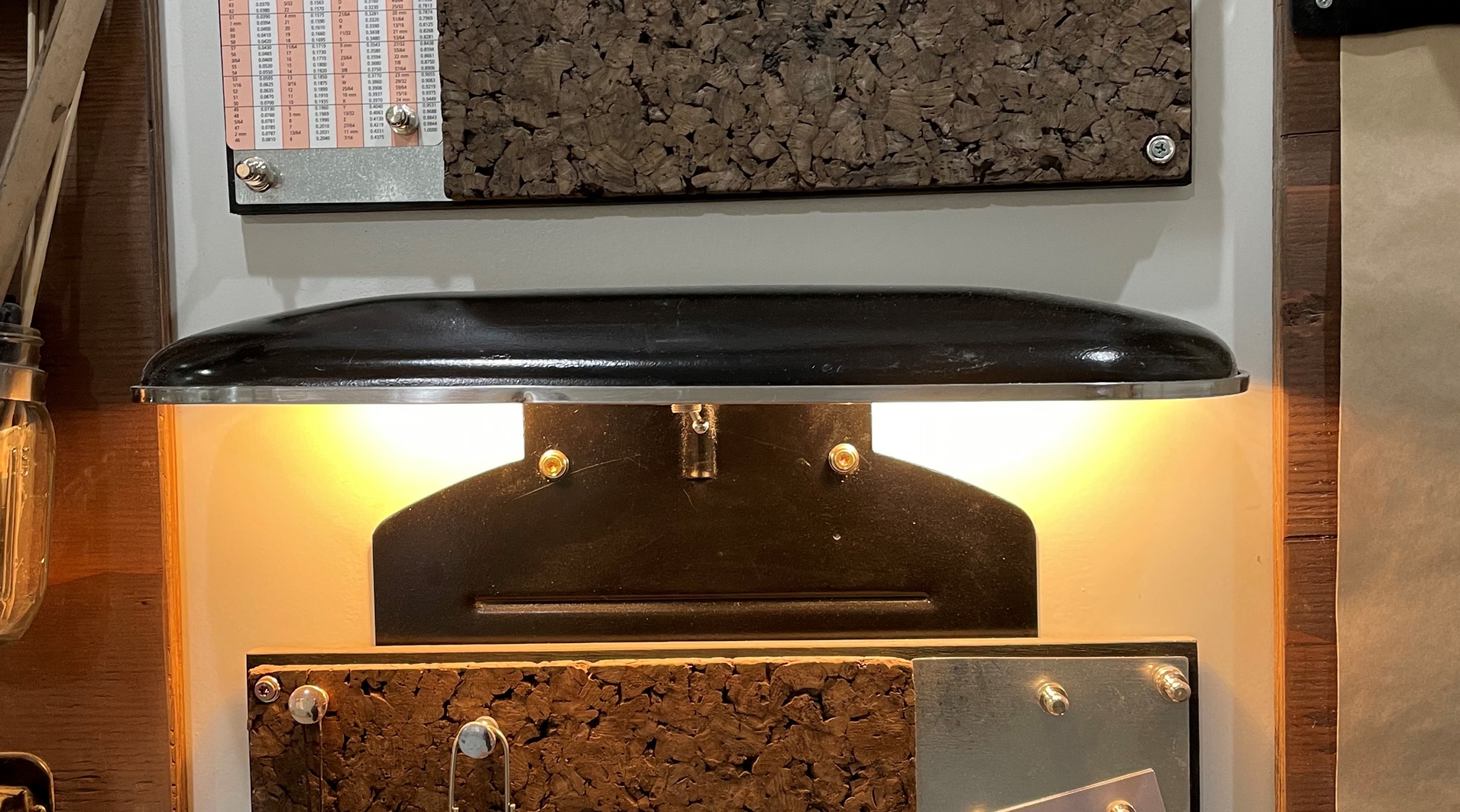 I've written a more in-depth post about it. Click below.
This is a fun and easy project.  I use it to jot down measurements, shopping lists, and phone messages. And it's easy to tear off a piece of paper.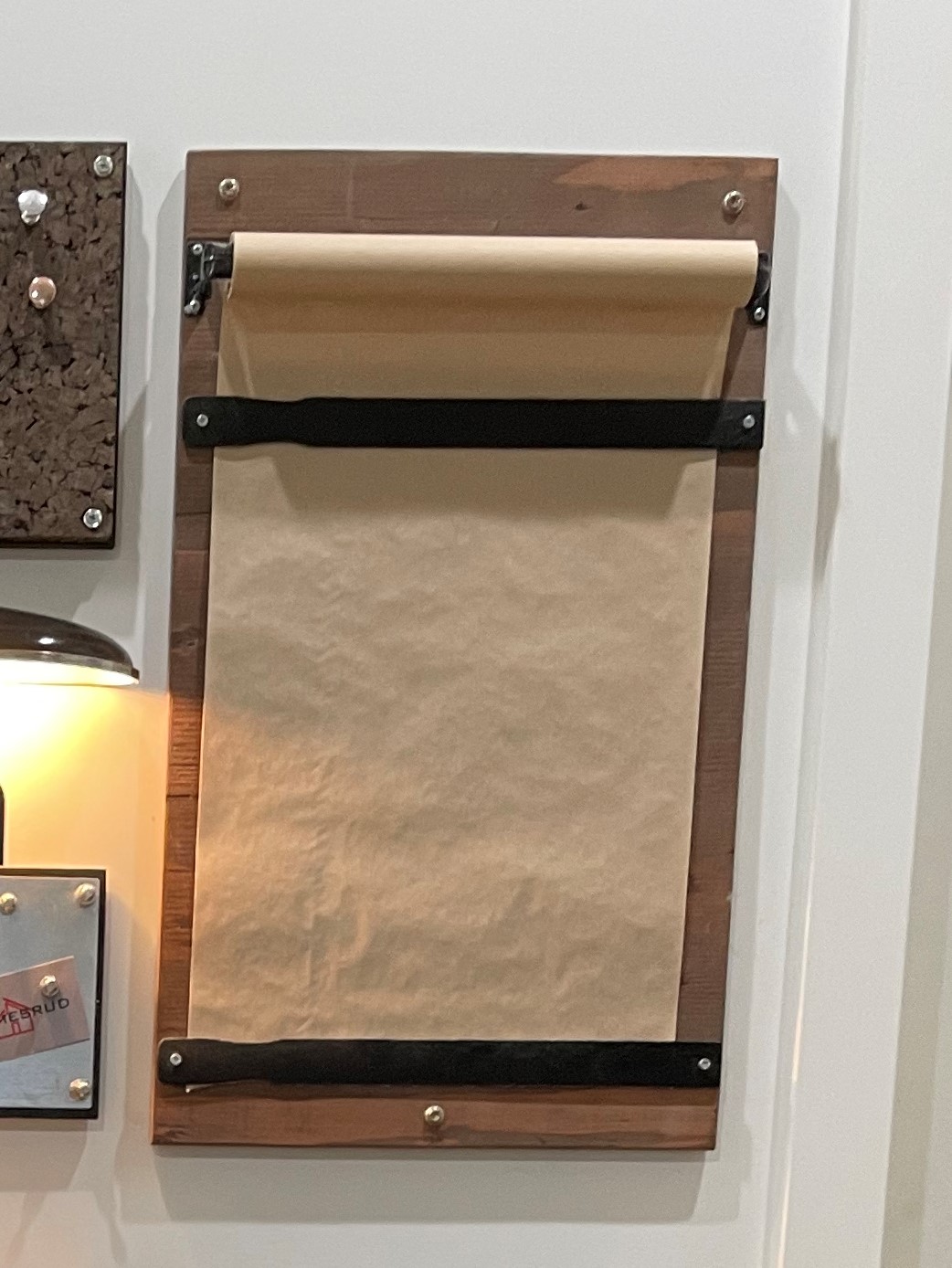 Dimensions:  14 in wide x 23 in tall (Same as the paper towel roll)
Materials:
½ or ¾ plywood
Curtain rod (or you could use a paper towel holder or dowel)
2 paint sticks (free from your paint store)
Screws
Roll of painter's paper
Spray paint
Wood stain
Poly
Cut the plywood to your preferred size.  I made the paper towel holder and the craft paper dispenser the same measurement. Sand, stain and seal the wood.
I used a salvaged curtain rod to hold the paper roll and a paint stick to hold the end down.  This makes it easy to tear off a length.
It was mounted with mollies, screws, and finish washers.
I spray painted the paint sticks to keep everything cohesive.
5. Glove & Tissue Dispenser
I thought this one was a no-brainer, but my husband totally made fun of me when I installed this.
I use both of these items all the time in my shop. Now I catch him using it!
I found it on Amazon.  Here's the link.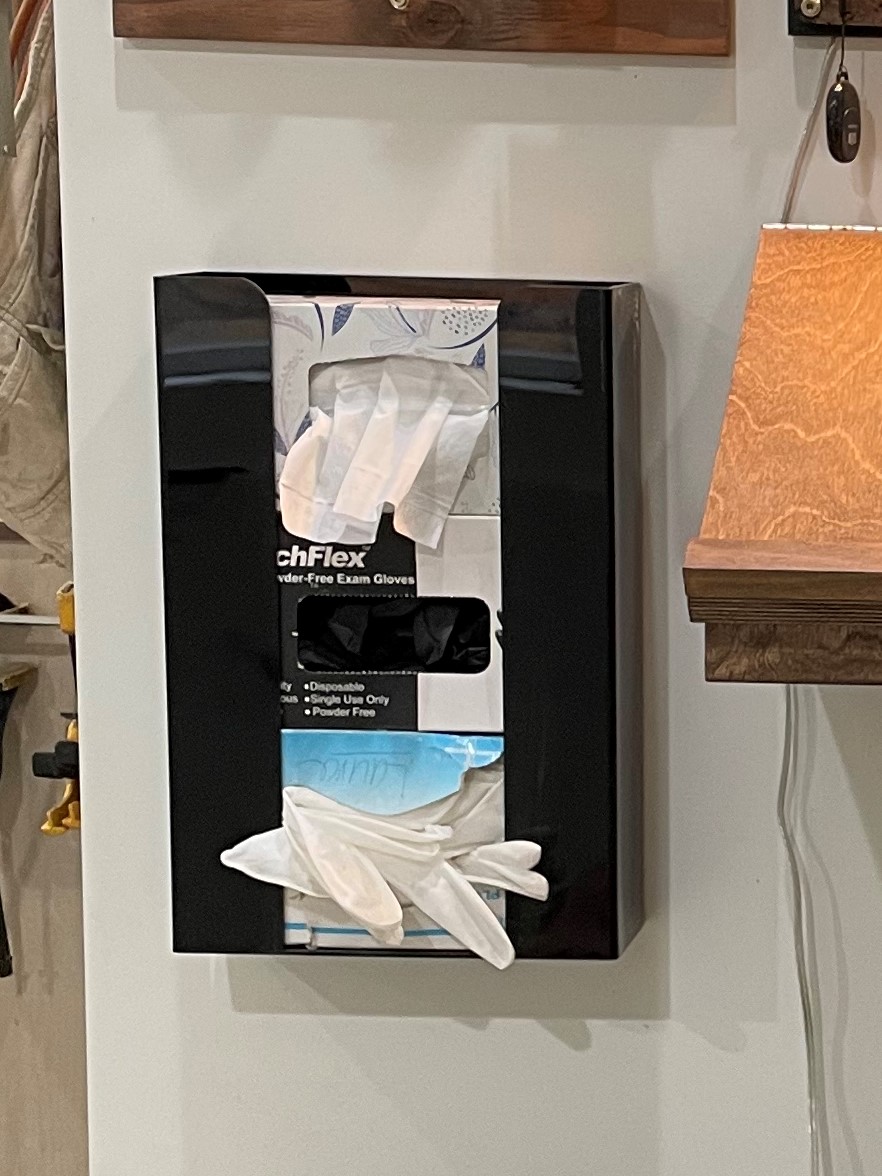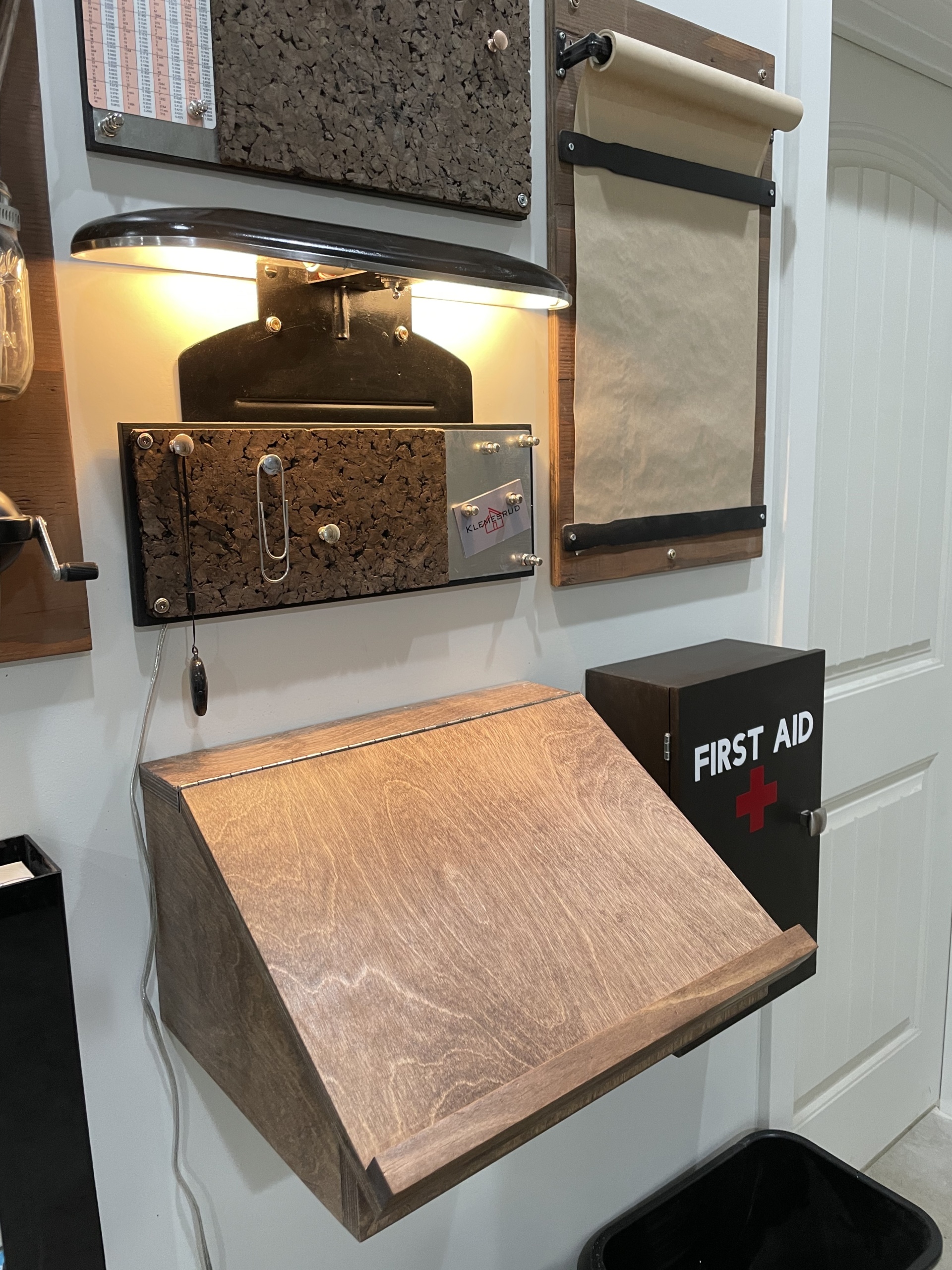 Dimensions: 16 in wide x 9 inches tall x12 in deep
Materials:
¾ inch birch plywood
Wood glue
Brad nails
Stain
Piano hinge
Screws
This was an adaptation from this Kreg Tool post. I altered it to fit my space and left off the peg board.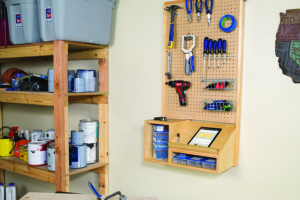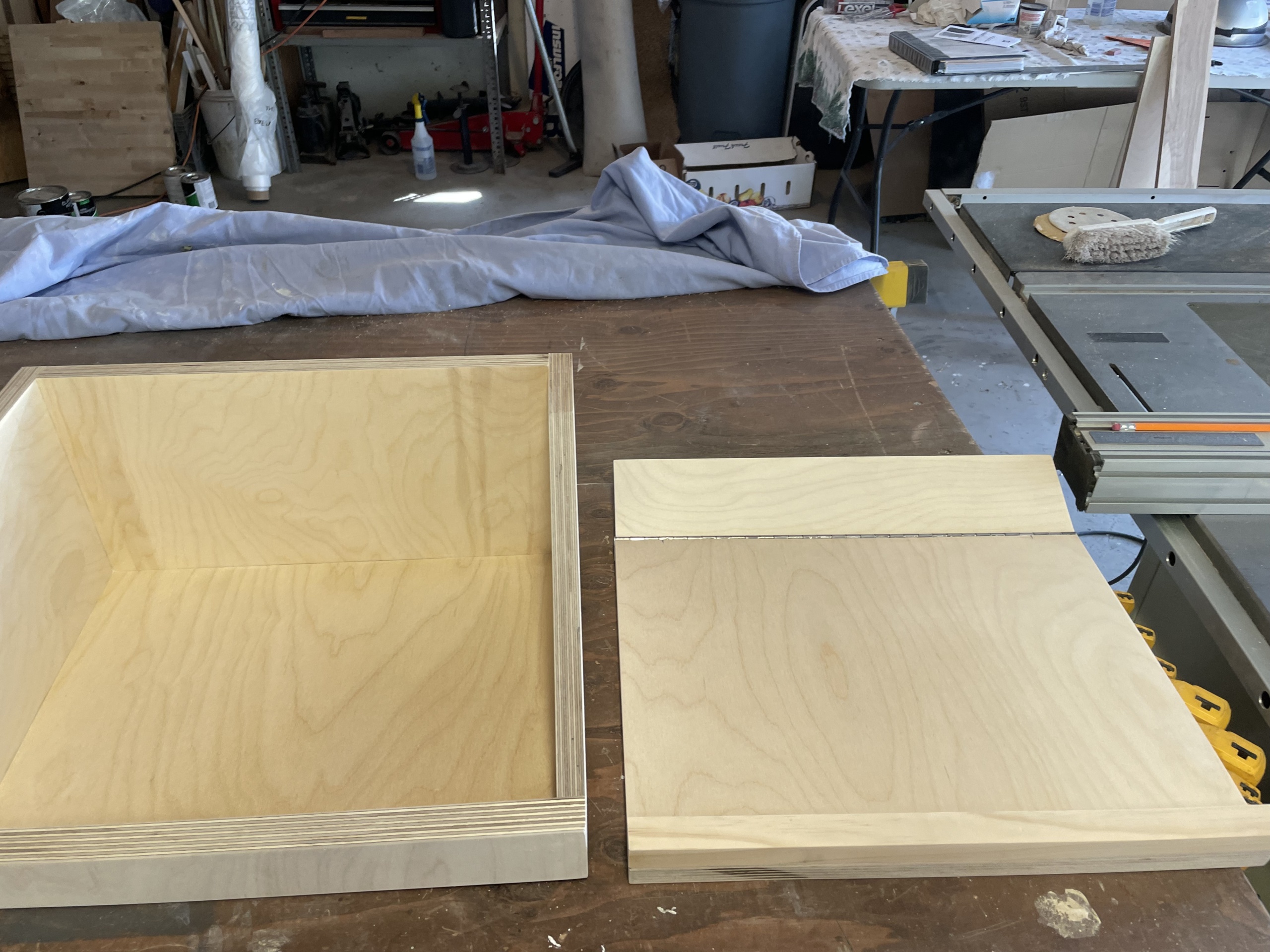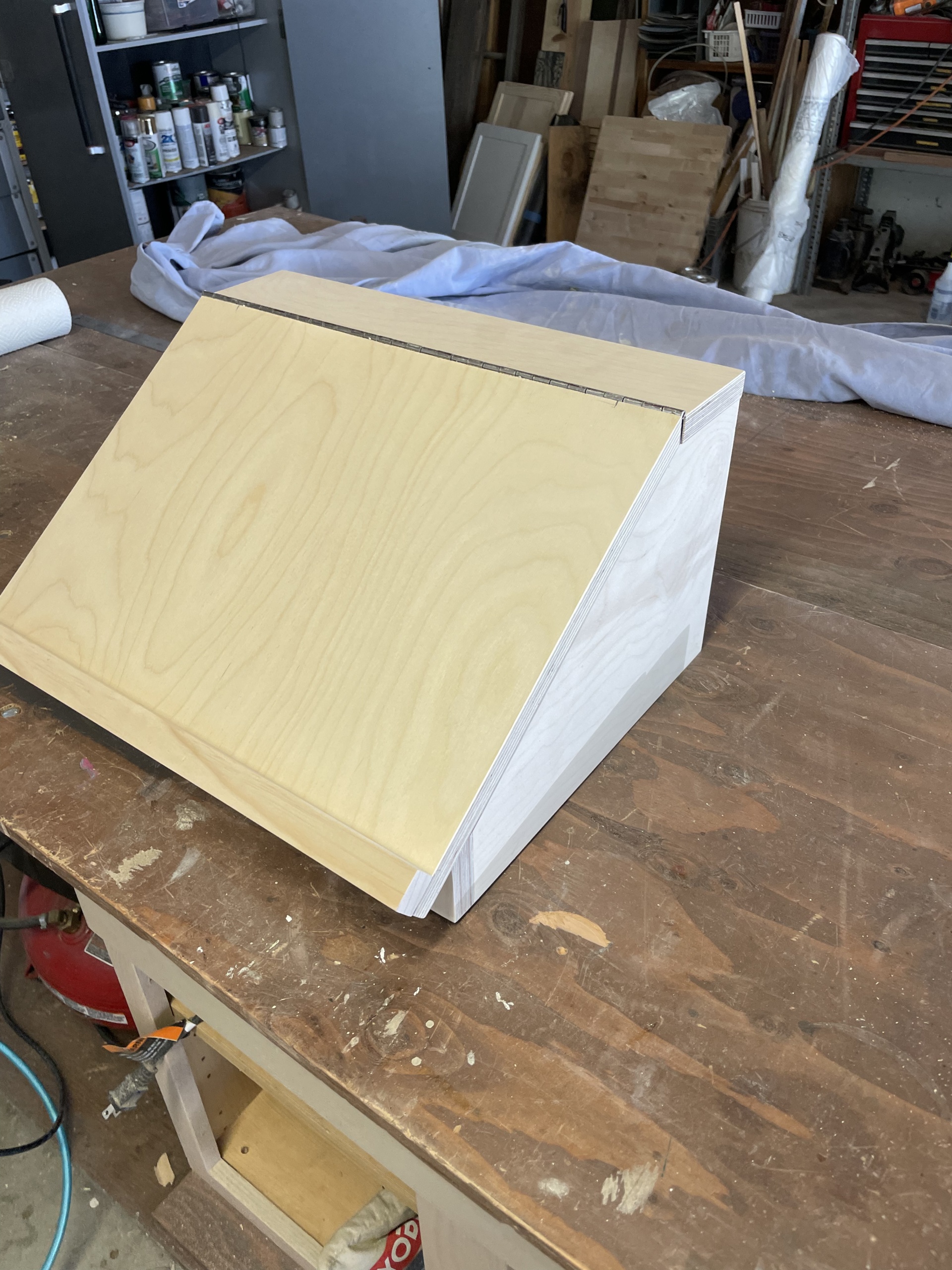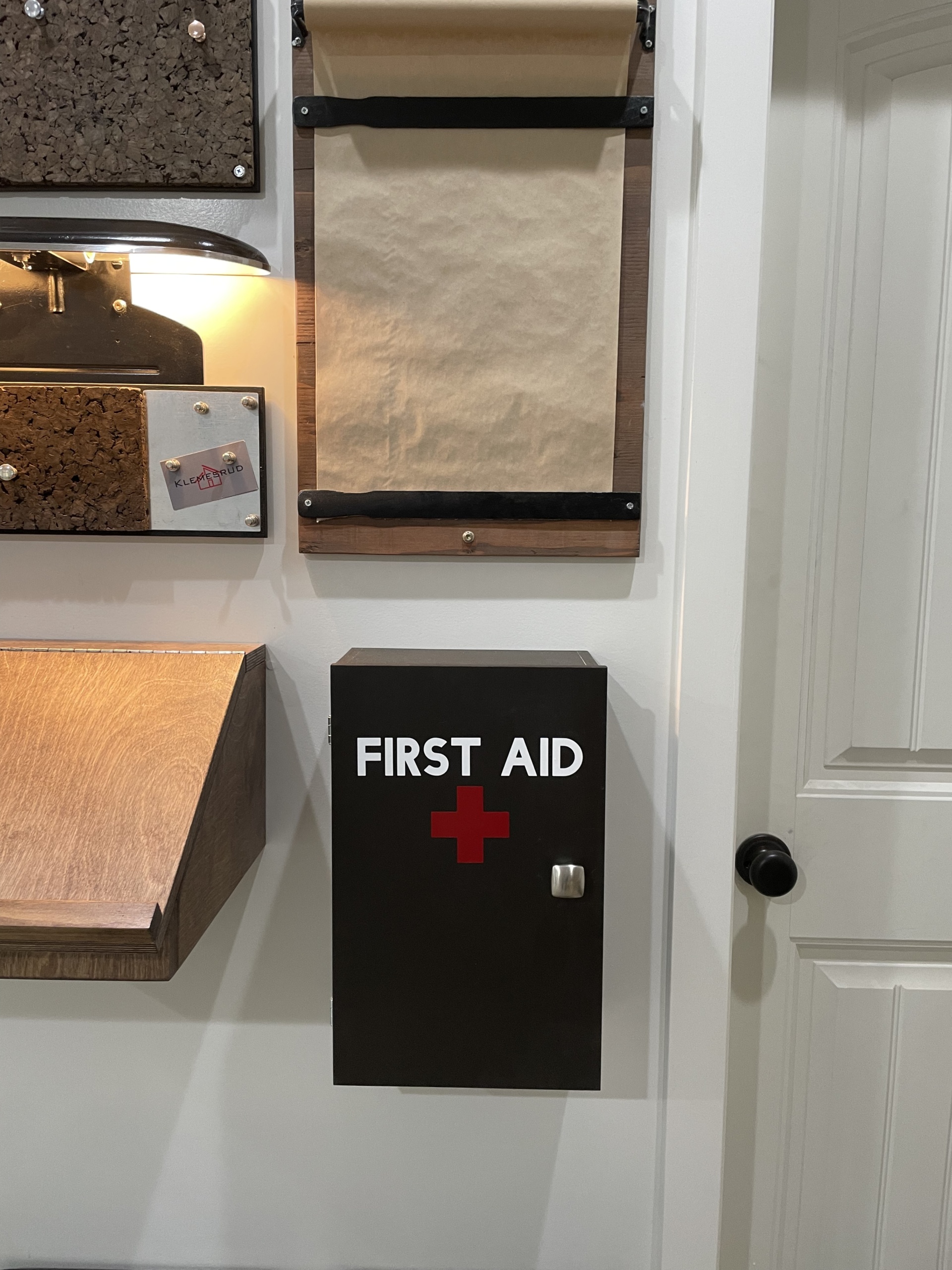 I don't have to tell you that this is a shop necessity. It just has a few of the essentials with the thought that if a bandaid doesn't fix it, you might want to head to the hospital.
I keep bandages, styptic stick, gauze, tape, antiseptic, and eye wash.
Just the other day my husband came into my side of the shop with his finger in his eye asking me to fish a particle out.  I went for the eyewash!  A few blinks with that little cup over his eye and ....bingo!  All better!
Dimensions: 10 in wide x 16 in tall x 5.5  in deep
Materials:
½ plywood
1/8  plywood for back
Brad nails
Wood glue
2 hinges
Knob
Black paint
Vinyl cut letters
This is just a basic box with a little shelf in the middle.  It can be made to any size. Since it wasn't going to hold anything very heavy, I constructed it with wood glue and brad nails. I added a cleat inside at the top and bottom to make it easier to mount to the wall.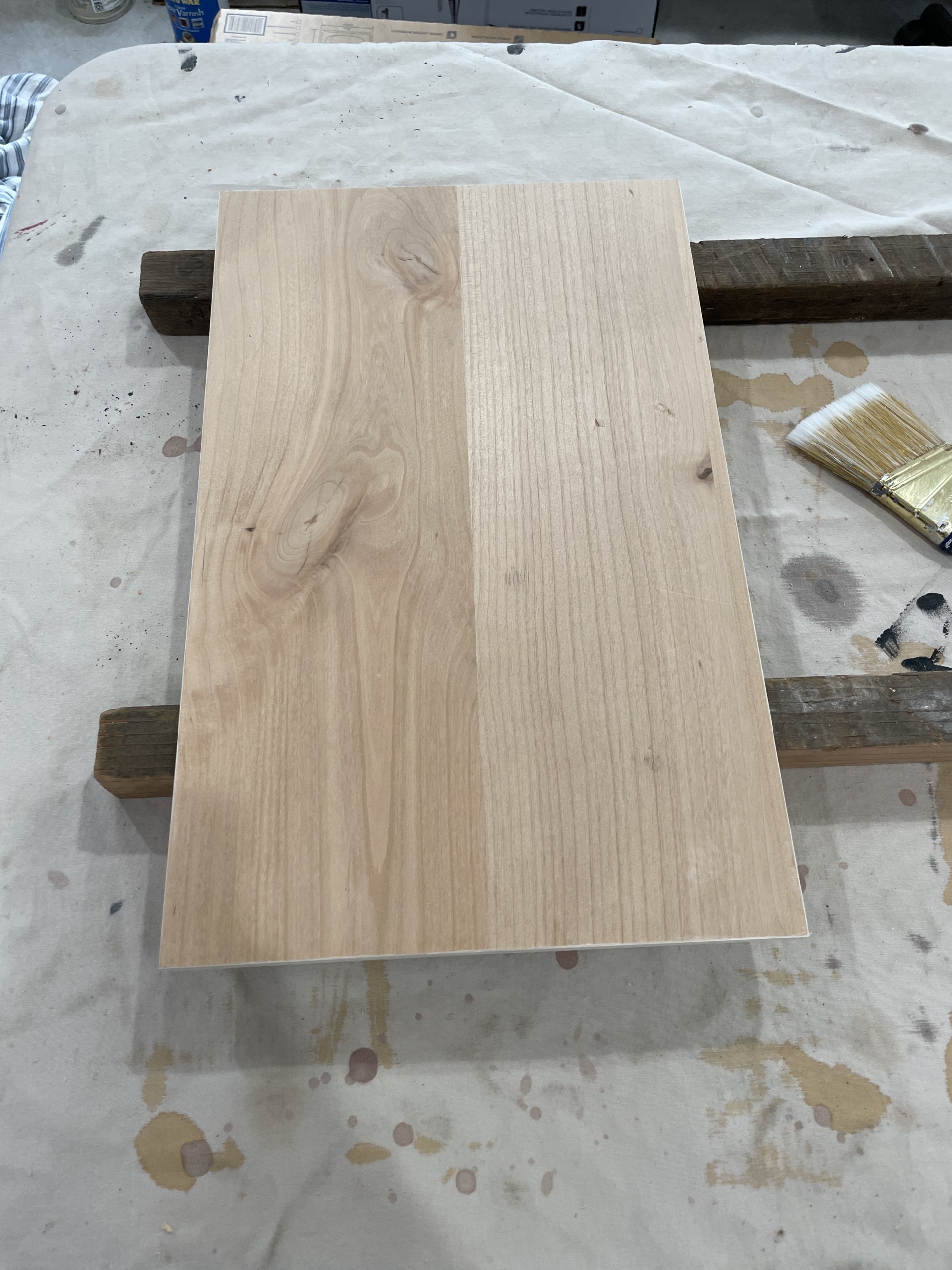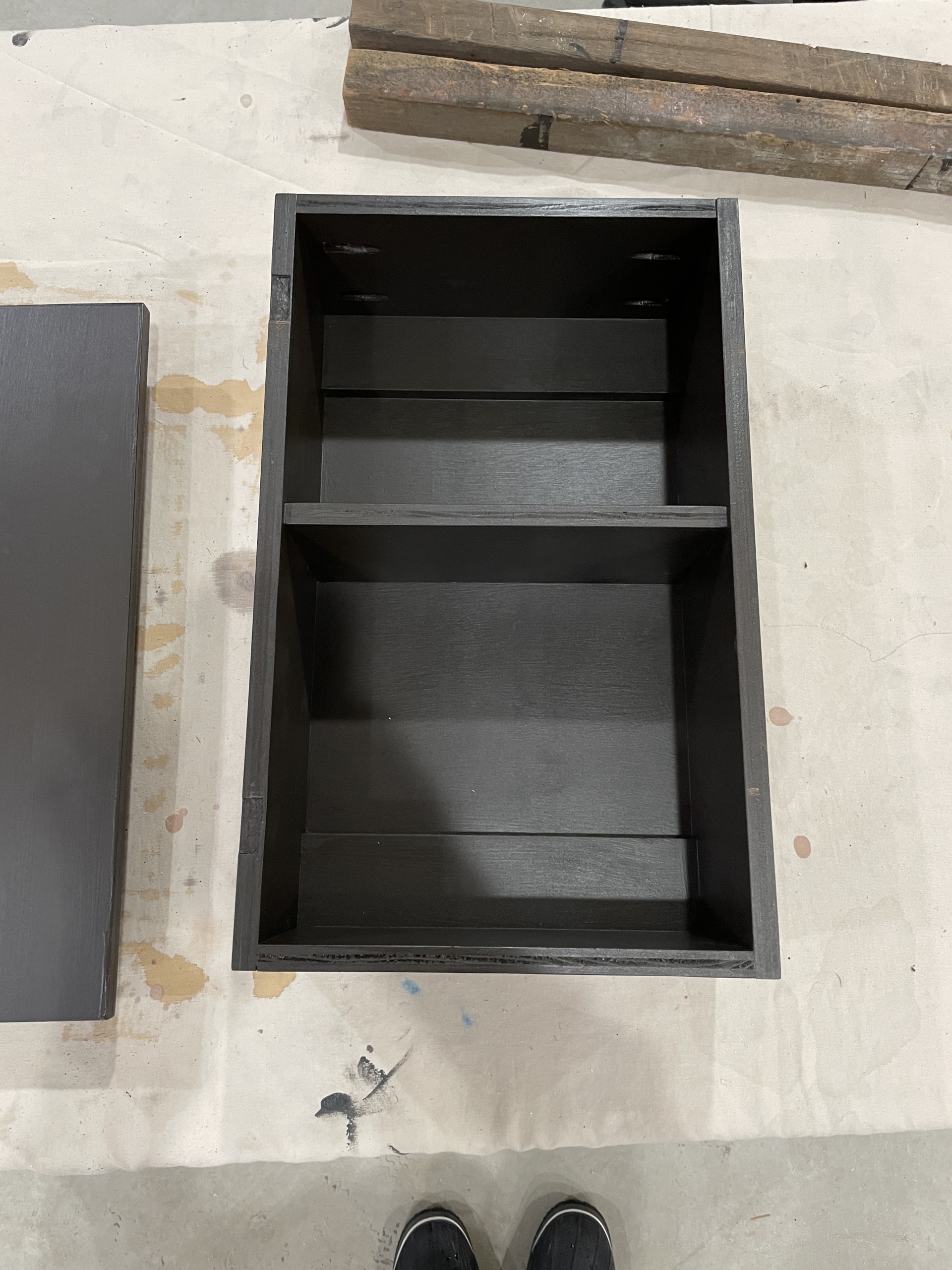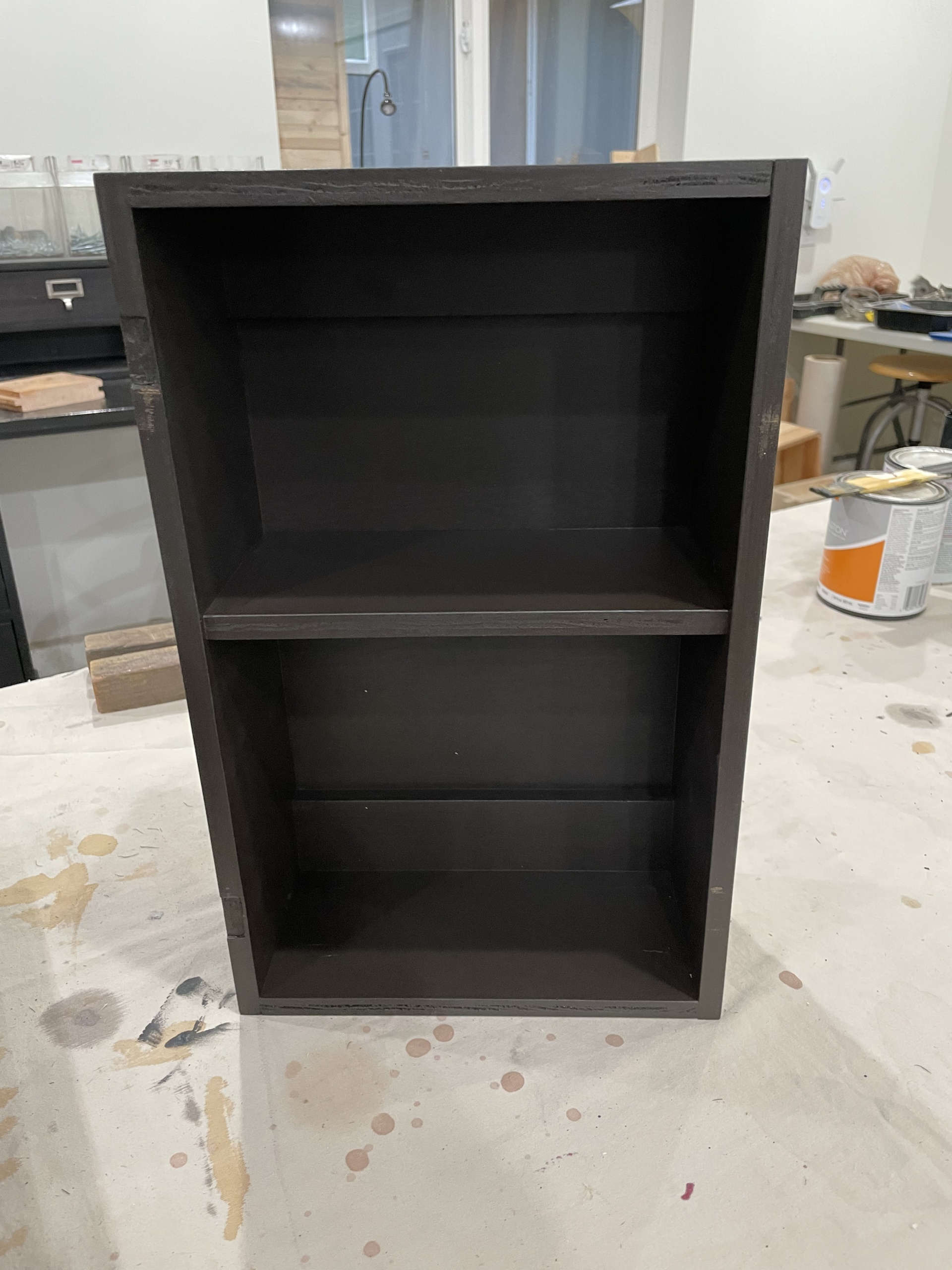 The door is plywood as well. It is attached with two 1 inch hinges. I added a magnetic catch, and knob as well.
When the paint was dry I used my vinyl cutter to put the words "FIRST AID" on the front.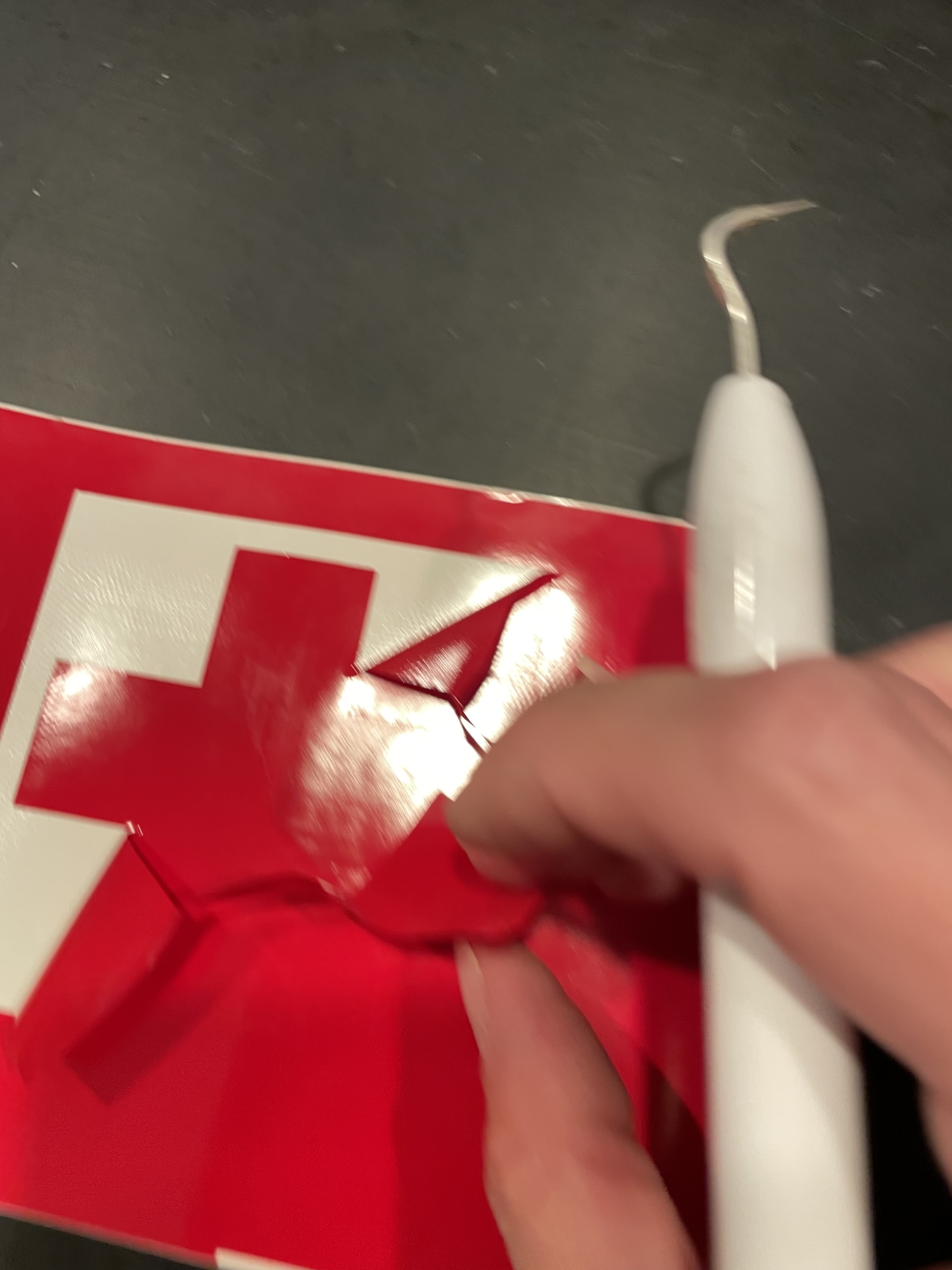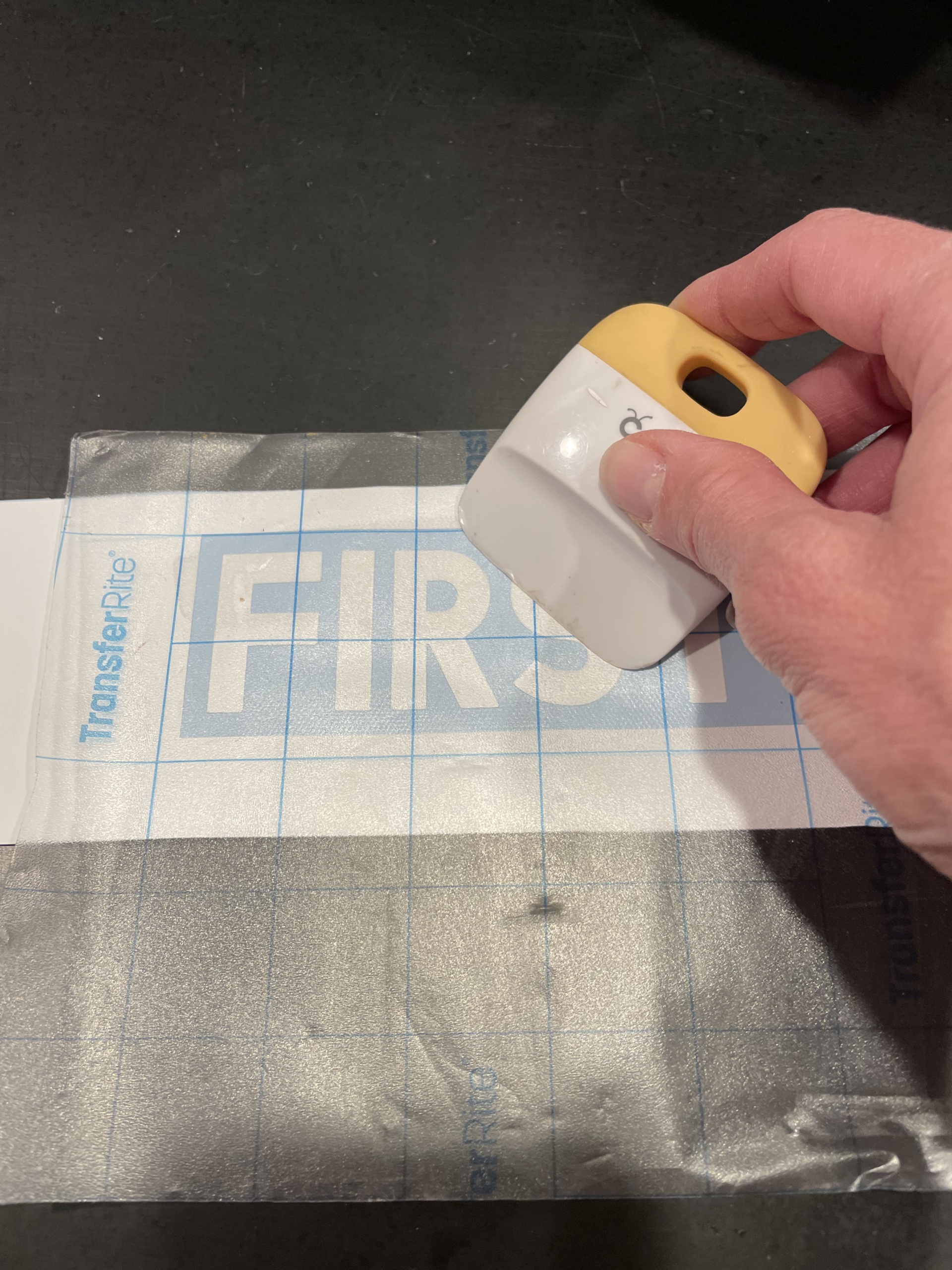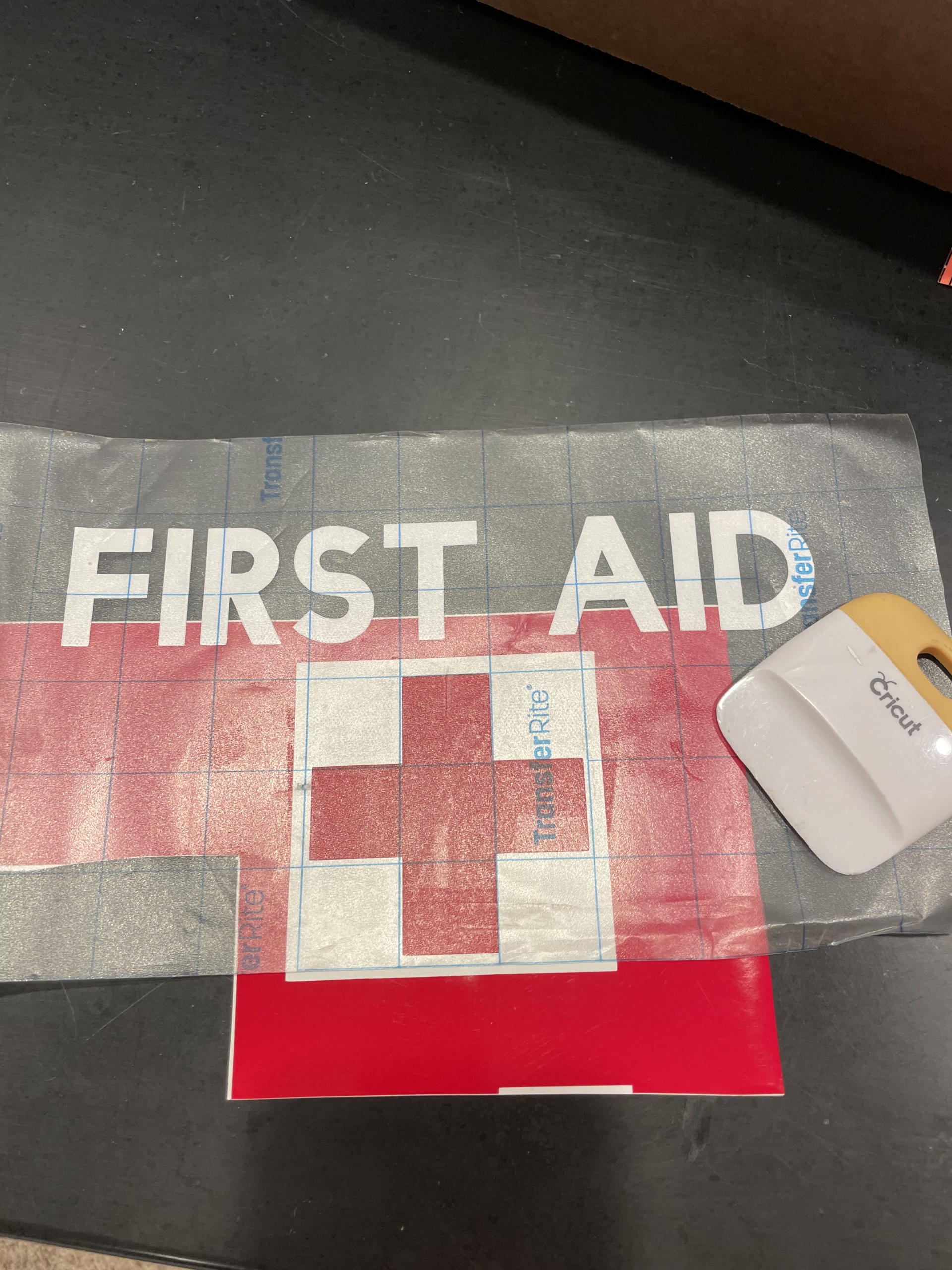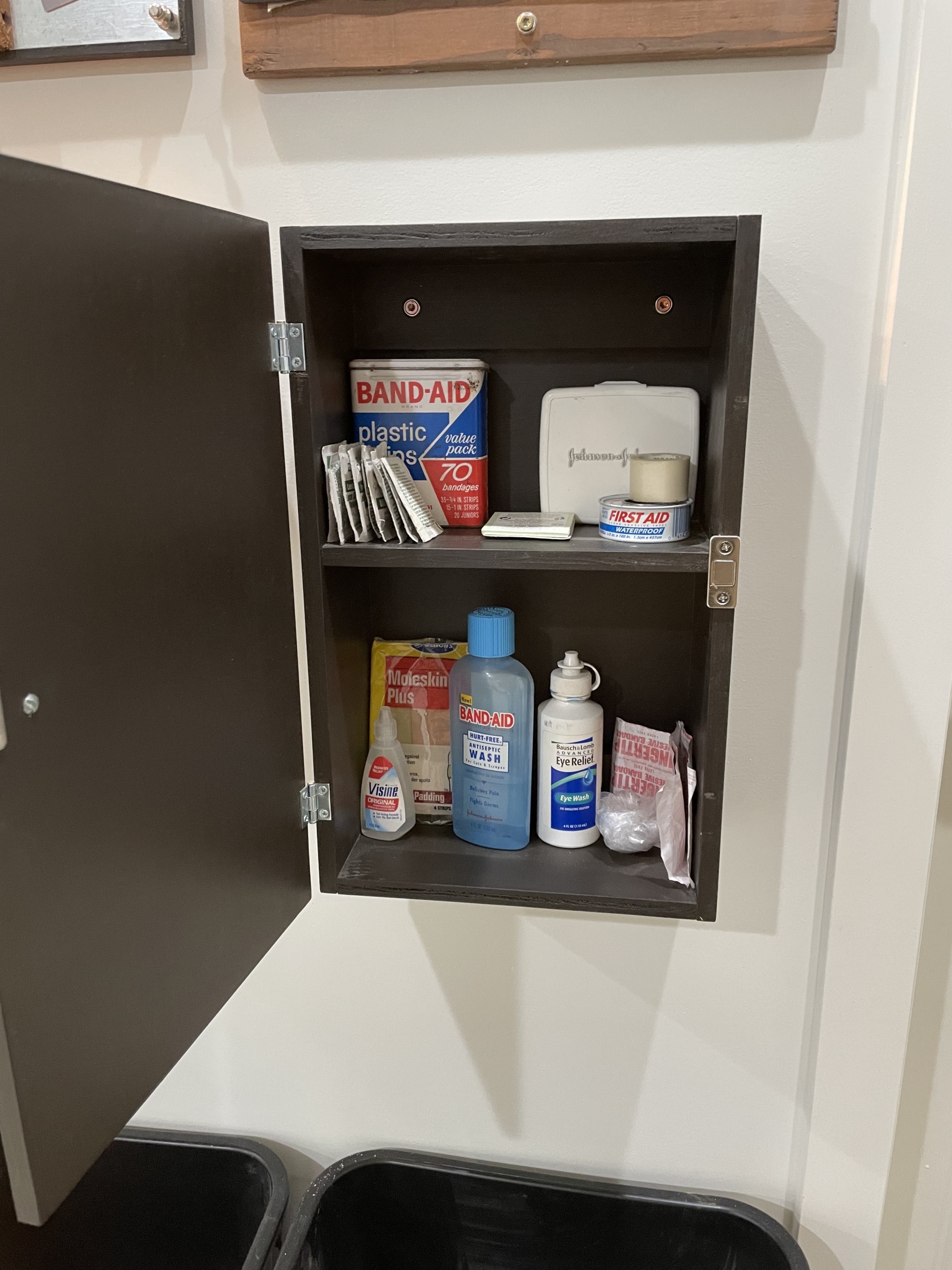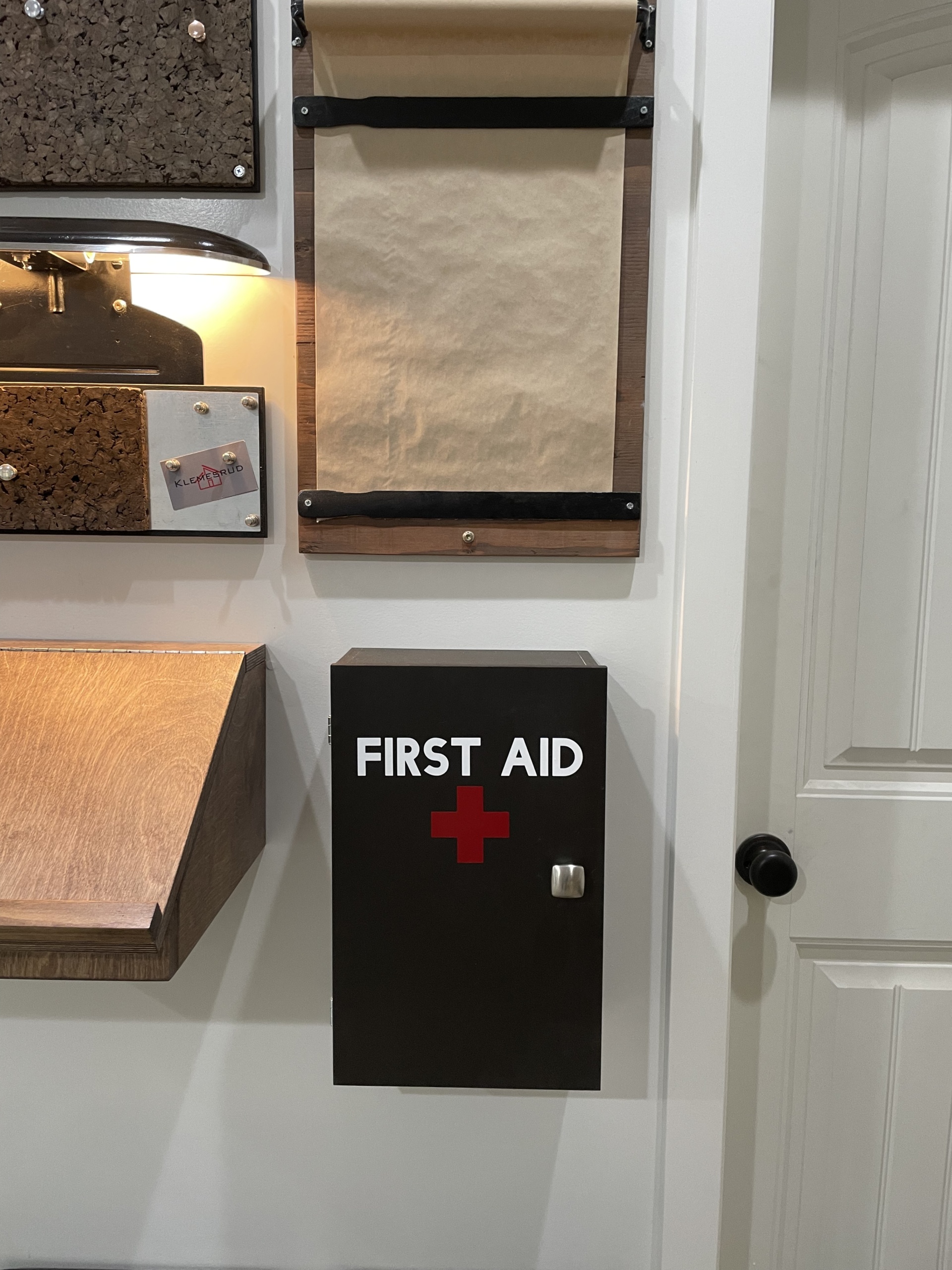 All three of these are necessary in a shop.
Trash: Self explanatory
Rags: I use a lot of old towels to wipe off dust on projects before painting and I prefer to wash them instead of using paper towels.  I use paper towels for stain, paint, calk, etc. (substances that don't wash out.) But for dust, and other things I like to be thrifty and not waste resources.
Recycling: Cardboard and aluminum. Basically my husband has a beer fridge on his side of the shop. lol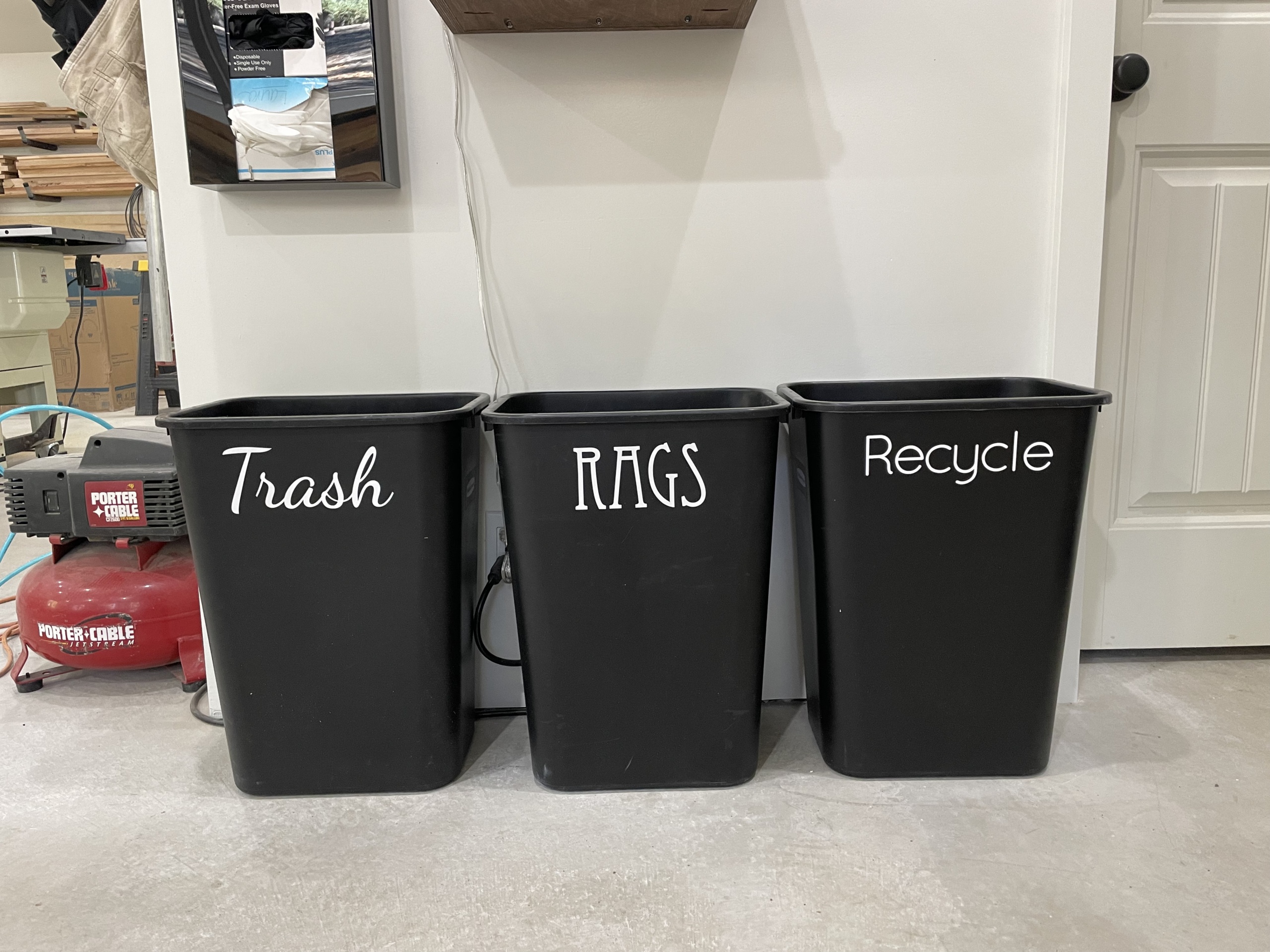 I purchased the trash cans at The Home Depot for around $10.
Here's a link for you:
Full disclosure: I used my vinyl cutter  to letter these.  The vinyl just didn't want to stick to the plastic trash can.  I will probably wind up cutting new vinyl and using it like a stencil to paint on the letters. Also, my friend Jon thinks I should change the word "Trash" to "Rubbish" to keep the "R" theme.  lol.
I hope you enjoyed this post and thanks for visiting.