Vintage Camper Restoration DIY
Did you know that there are three different wiring systems in your vintage camper?  I did NOT!  I soon found out as I was faced with rewiring all of them in my 1956 Shasta rebuild.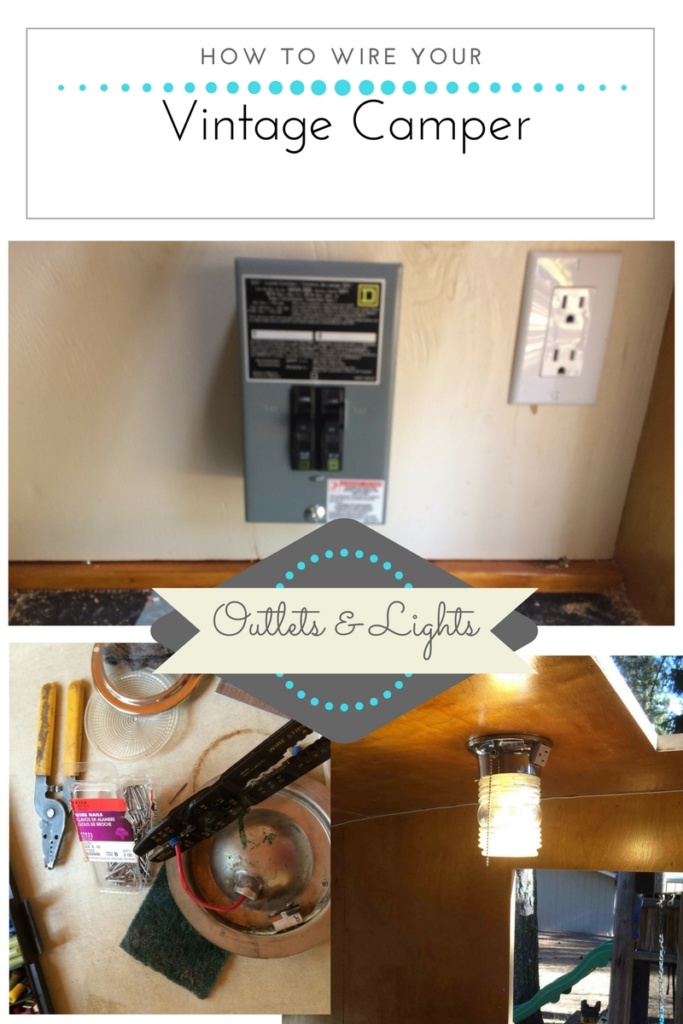 Luckily, my little vintage camper was somewhat simple.  Since this was my first rebuild, I was glad I didn't have to deal with a fan, air conditioner or other appliances.  Here's the rundown of the systems;
Trailer lights- these illuminate when you drive.
12-volt system –battery-powered interior lights and water pump.
110-volt system - runs your lighting and outlets when you're plugged into shore power.
I'll be the first to admit that this area makes me nervous and I didn't really enjoy the process.  Because this was my first wiring job, I did a lot of research and talked to several of my construction friends.  My father-in-law is an electrician so I enlisted his help as well.  By the end of the research process, I think I had four wiring diagrams and several pages of notes.
Please note that this is how my vintage 1956 Shasta camper is wired and yours may be different.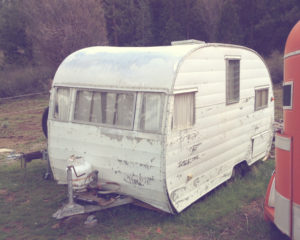 Disclaimer: The information contained in this website is for general information purposes only. The information is provided by Lip Gloss and Power Tools and while we endeavor to keep the information up to date and correct, we make no representations or warranties of any kind...[read more]
Tools you'll need
Wire cutter/crimpers 

Connectors (I used a variety of 12 and 14-gage types)
I really couldn't use the old wiring as a template for the new because I just didn't trust it.  The old system had glass fuses and old wiring.
So, here's how I installed each system.
---
Trailer lights
By this, I mean the lights that illuminate when you drive; tail lights, marker lights, and blinkers.
In a previous post, I showed you how I prepared the trailer lights by running a length of conduit pipe under the trailer frame.  Check out my post on that, here.
Supplies you'll need:
Trailer light assembly wire kit

Tail and marker lights ( I used my old ones but VintageTrailersupply.com has new ones if you need them.
I ran the wiring through the conduit and made the plug connection at the hitch.  Now I'll finish up by connecting the tail and marker lights.
I was lucky enough to have my father-in-law, Dave, over and he showed me how to clean up the light cans and get them ready to reinstall.  He tested each light and labeled the wire before we installed it.
Here's a diagram that I used for reference. My '56 Shasta doesn't have side marker lights so I was able to run the wire through a single piece of conduit in the middle of the trailer frame.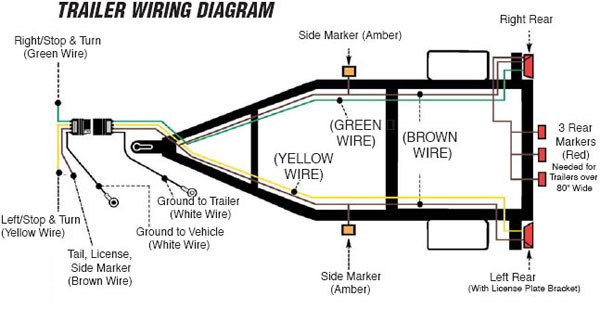 Check out the tinyrevolution.us website for full instructions.  This is where I got the diagram.  These instructions are really great.
Dave used the old tail light wood blocks as templates and cut new ones for me.  What a guy!!! I'm so thankful for his help with this.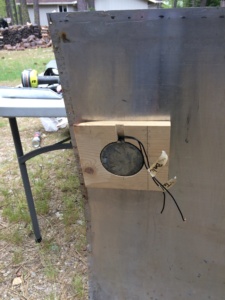 The blocks were installed on the aluminum siding and the lights were placed in them. This next part took two people because we had to connect the wires and hold the aluminum siding at the same time.  After the connections were made, I put the panel up with a couple of screws and tested them out.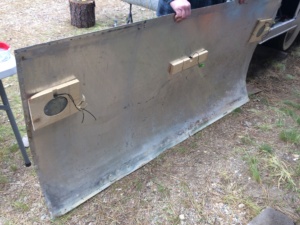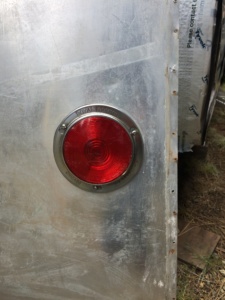 Don't forget about the ground wire.  If you're having trouble with your trailer lights not illuminating, check to see if your ground wire is properly installed.
---
12v System
Supplies you'll need
Battery
Battery charger

Water pump  

12-v socket (cigarette lighter-type receptacle)

A puck-type light that goes over the bed. I purchased a new LED one because the old one kept shorting out. [Vintagetrailersupply.com]
This runs your water pump, and for me, a light above the bed.  I added a socket to run a fan or charge a cell phone.
I chose a deep cycle marine battery from Walmart.  The wires run inside the lower kitchen cabinet to the water pump and socket.  The light wires run under the cabinet, through the wall and over the top of the camper. I used 12-gauge stranded wire and ring connectors. Stranded wire is more flexible and easier to run under the cabinets and around tight bends.
The wires are run to the corresponding posts on the battery. I installed an in-line fuse on the negative side.
I use a trickle charge battery charger and carry it with me in the cargo compartment.
---
110-v System
This system will run your interior lights and plugs and will connect to shore power.
Remember the glass fuses that I found when I dismantled the camper? This will replace them.
Supplies you'll need:
Wire (12-gauge stranded in black, green, and white)
Wire (14-gauge stranded in black, green, and white)
Two-gang metal breaker box with cover
15-amp breaker
20-amp breaker
Plastic outlet remodel box (I installed two.)
Outlet
Outlet cover

Shore power outlet

Shore power cord 
I installed a breaker box that replaced the old glass fuses. I got help from my husband, Mike for this.  He wired his shop with 110-v and 220-v,  so he has some experience.  I bought a two-gang breaker box and two breakers (one 15-amp and one 20-amp).
My camper has two light fixtures.  There's one above the kitchen sink and the other above the dinette.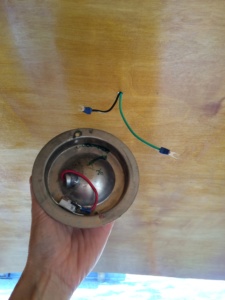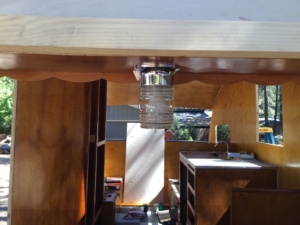 Originally, these lights had a base that contained an outlet.  When I dismantled the camper I noticed that the outlets didn't have a ground wire.  I decided to replace the light bases with new, modern ones.  I found the exact same base on Amazon. ...AND it fit the vintage glass dome perfectly.  I feel much better about the outlet now.

Here's a link to the light fixtures that worked for my rebuild.
Those outlets on the light fixtures were the only ones the camper had.   …and they are in the ceiling, not very convenient. For this reason, I opted to add an outlet by the bed and one in the cargo area for outdoor string lighting.
---
Installing the metal breaker box
I added a piece of plywood to create a compartment in the cargo area.  This partition would conceal the wires and act as a mount for the breaker box. I chose this location because it's in the same cargo area as the battery and it's where I wanted the shore power outlet to be placed as well.
I mounted the breaker box, then cut a hole in the partition that would fit the outlet.  I also cut a hole for the outlet by the bed.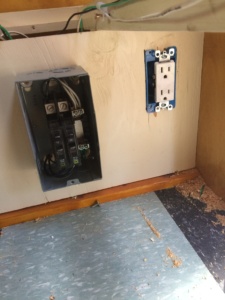 The outlets were easy to wire; again I used 12-g stranded wire.  Outlets have a hot, neutral and a ground.  They are marked respectively.  This YouTube video was very helpful in clarifying the process.
How to install an electrical outlet box
How to wire an electrical outlet
The lights were wired to the 15-amp breaker and the outlets were wired to the 20-amp.
Typical installation guidelines; Use a 15-amp breaker with 14-g wire for light fixtures.
Use a 20-amp breaker with 12-g wiring for outlets.
But…because my light fixtures had an outlet on the base, this was a problem.  I knew I wouldn't run a microwave or other load-hungry appliance from the outlet on the ceiling so I opted to keep it at the 15-amp/14-g configuration.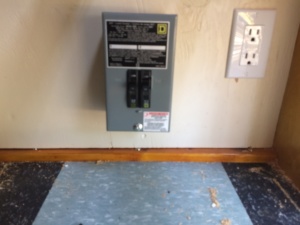 Finally, I installed the shore power outlet to the exterior of the camper.  It was scary cutting into the siding of the camper.  I didn't want to mess it up.  I used a hole-saw the exact diameter of the outlet and took my time.  Then I used a file to make it a bit bigger and ensured a snug fit. I placed a bead of caulking around the outlet to seal out any water and road grime.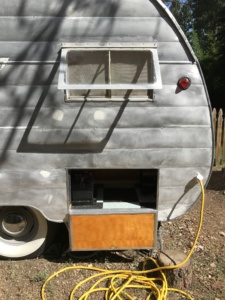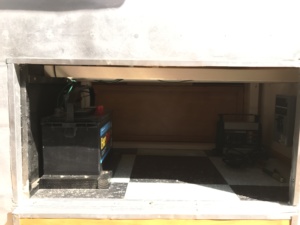 Because my 1956 Shasta wasn't equipped with a shore power outlet, this was all new to me.  After I purchased the outlet, I realized that I needed a power cord to go with it…duh!  It took me a while to find the right one and in the process learned that it's very important that you have the correct one for your camper.
Here's a link to the one I have.  Hope this is helpful to you for your rebuild or remodel.
After everything was installed and tested, I took the time to make the wiring look neat and clean under the sink and cargo area.  My husband and kids know how I hate to see wiring that is messy.  It's a big pet peeve of mine.  With a few clips and zip ties, I could finally look under the sink and keep my OCD at bay.  Mischief Managed!!!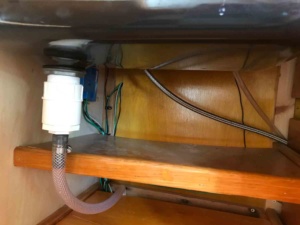 LOOK!  I MADE LIGHT! 🙂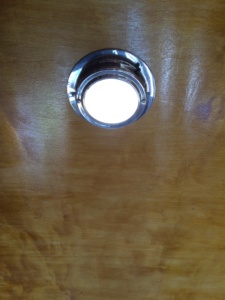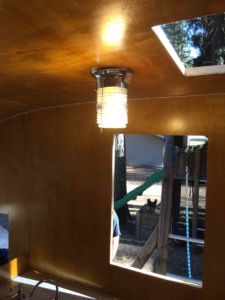 The next order of business is to connect the water tank, install the faucet, water hand-pump, and drain. How hard could that be?  (These words have gotten me into lots of trouble over the years!!)